While living in Erin, Ontario in the early 1990s, Virginia May worked as a writer and photographer for the local newspaper, the Erin Advocate. She has recently begun to combine her interests in painting, photography and writing, and in 2015 published her first book: Toronto Through Time - Stories of Toronto's Past.
Painting images of Toronto's heritage architecture led her to take a closer look at those buildings, often during the popular Doors Open Toronto - an annual event where selected buildings are open for general viewing by the public. This in turn led to researching those buildings, as well as those individuals responsible for their construction and the times in which they lived.
One reader's thoughts on the book:

"In Toronto Through Time - Stories of Toronto's Past, Virginia May provides readers with a visually stunning and highly readable account of Toronto's early days, from the pre-colonial period, to the founding of the modern City of Toronto, to the continuing evolution of the city as a world-class metropolis. This book will appeal to any reader seeking to understand how Toronto transformed over the centuries from a humble trading post to Canada's biggest and busiest urban centre. The style of writing is approachable to readers of all levels and ages, while the book's spectacular collection of historical images will ensure that readers remain mesmerized as they uncover delightful little-known secrets about the city we all know and love. Overall, the book represents an informative and enjoyable journey through Toronto's rich past, and will offer something new to both its residents and those with a broader interest in the history of Canada as a modern-day nation state."

---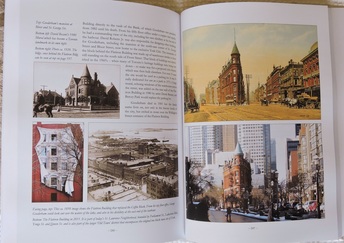 This 360, full-colour book has been nominated for a Heritage Toronto award for the fall of 2016. It is available through the following Toronto stores:

BEN McNALLY BOOKS: 366 Bay St., Toronto (416) 361-0032
SPACING: 410 Richmond St. W., Toronto (416) 644-1017
ANOTHER STORY BOOKSHOP: 315 Roncesvalles Ave., Toronto (416) 462-1104
BOOK CITY: 348 Danforth Ave., Toronto (416) 469-9997
BOOK CITY: 1430 Yonge St., Toronto (416) 926-0749
MY TYPE OF BOOKSTORE (TYPE): 883 Queen St. W., Toronto (416) 366-8973


---
Canada A to Z - In Commemoration of the 150th Anniversary of Canada's Confederation. It is an exploration of Canada's past, based on 26 subjects: A - All Together; B - Beaver; C - Charter of Rights and Freedoms; D - Democracy; E - Exploration; F - Forests; G - Group of Seven; H - Hockey (what else!); I - Indigenous Peoples; J - Journalism; K - Klondike; L - Laurentian Shield; M - Mountains; N - Newcomers; O - O Canada; P - Prairies; Q - Queen; R - Railways; S - St. Lawrence; T - Trans-Canada Highway; U - Unity; V - Village; W - Water; X - X Marks the Spot; Y - Yesterday; Z - Zero.

This 64 page book has now been published and is currently available only through this website. Contact Virginia May by email: vmayfineart@hotmail.com and please put "book request" in the subject line.

---